Whenever you apply for a particular job, you need a good resume to show your qualifications and skills. Resumes are effective ways to demonstrate why you should get hired. A traditional resume is a one-page document that highlights your experience, qualifications, and achievements in a specific order. Having a good resume in your hands before applying for a job is like having your weapons ready when going to war.  
There are several resume design you can find at different smart resume builders, but if you are going to apply for a creative position, the classic resume format is your best choice. More than 80% of recruiters and hiring managers appreciate this format instead of modern resume formats. It is a smart resume format that is easy to read and scan. 
If you are confused about a traditional resume format and want to know more about it, you are at the perfect place. 
Traditional Resume and Its Structure
A traditional resume, also known as a classical resume, is a marketing tool that contains your academic background, skill set, milestone achievements, and work experience. A single-page document proves why you are a perfect candidate for this specific position. You can also add some additional information such as contact details, award achievements, memberships, additional programs, and certifications in this format. 
The classic resume format does not contain any kind of graphics or creative representation; it uses only texts to represent you in the best form.
Classical resumes format require following a pretty strict structure. A specific order is the most crucial part of this type of format that includes;
Personal Details and Professional Summary
Relevant Skills
Work Experience
Educational Background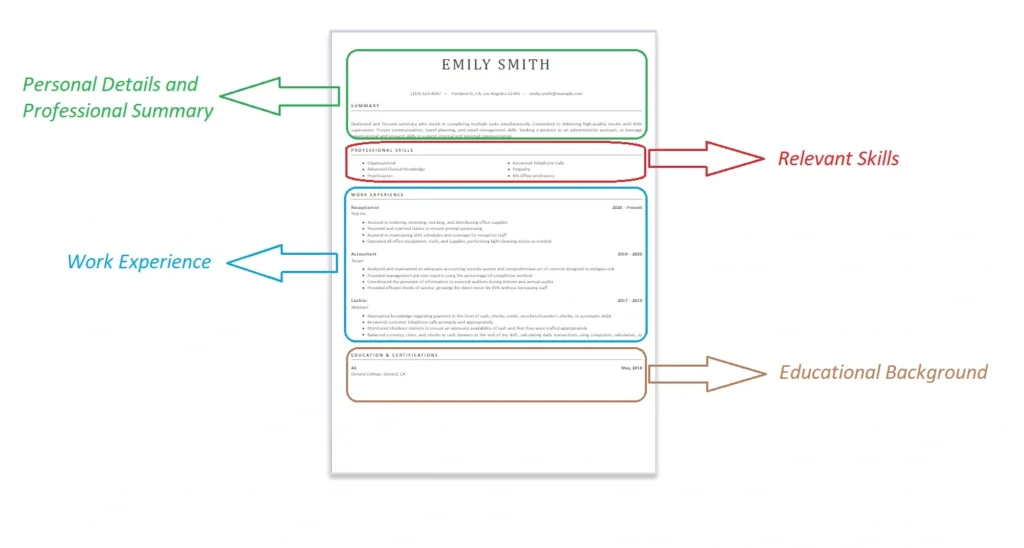 Personal Details and Professional Summary
This section includes the candidate's personal details such as name, contact information, job description, permanent address, and a short paragraph highlighting your experience, qualifications, and why you fit for this position. The personal details should be written separately from the paragraph in the form of a basic list.
All the formats of traditional resumes require including a skills section. You can list around five skills relevant to the company's requirements. If you include irrelevant skill sets, your resume will automatically be rejected by ATS (Application Tracking System).
Work Experience/Work History
When creating a traditional/classic resumes, it is necessary to include only those work experiences that are compatible with the industry requirements you will apply. You should mention the name of the company you worked for, the job role you had, the start and end date of your employment, and your responsibilities while listing your professional accomplishments. 
The education section is the most important part of a classic resumes that you should never miss. This section can outline your educational history, such as studies at higher school, college, university, and other establishments. While mentioning your educational background, you need to include the institute's name, location, studied years, the subject you studied, and grades. 
Types of Traditional Resume Formats
A traditional resume is a broad term covering three main types of resume formats. These are:-
Functional Format
Reverse Chronological Format
Hybrid Resumes Format
A functional resume format is a commonly used type of classical resume. It mainly focuses on work experience and the relevant skills you have. If you don't have much experience, this format allows you to only focus on essential skills to prevent your resume from discouraging.
Reverse Chronological Format
Job seekers most widely use reverse chronological resume formats. This format emphasizes listing the most relevant professional experience and essential information at the start of the resume. This helps recruiters see your most recent and relevant roles at a glance and increases your chances of growth. 
Hybrid resume formats contain the specifications of both reverse chronological and functional formats. It allows you to focus on both relevant skill sets and work experience. Most hiring managers appreciate this format of a classic resume.
Still Confused which resume format you should choose?
Advantages of Traditional/Classical Resumes design
The vast majority of hiring corporations will expect you to submit a classic resume because;
This typical essential resume design uses only one page to highlight all your specifications.

It is common and familiar to hiring managers.

Uses a variety of formats to accommodate different scenarios. 

It is a great way to cover your work experience, relevant skill sets, educational background, and other important information.
So wait no more, and get in touch with us instantly for top-quality services!
Classic Vs Creative Resume
Frequently Asked Questions
Q. How is the traditional/classical resume format different from the modern resume format?
The traditional resume uses traditional ways to impress potential employers, while the modern resume uses modern technologies to highlight your specifications.
Q. Does a traditional/classical resume accept different formats?
Yes! Traditional resume covers three major resume formats: functional, reverse-chronological, and hybrid. 
Q. How can I create a traditional professional resume?
You can use MyResumeStar's online smart builders or Microsoft word to create a traditional resume. 
Q. When should I use the classical resume format throughout my job search?
The vast majority of hiring managers appreciate this format. You can use the classical resume to find a job in any type of industry except creative industries.
If you are looking for the best traditional/classical resume formats, you must give them a try at MyResumeStar. You can sign up to browse your favourite resume templates. MyResumeStar offers different template styles to provide options for every job seeker. 
So wait no more, and create your resume with our professional resume builder…