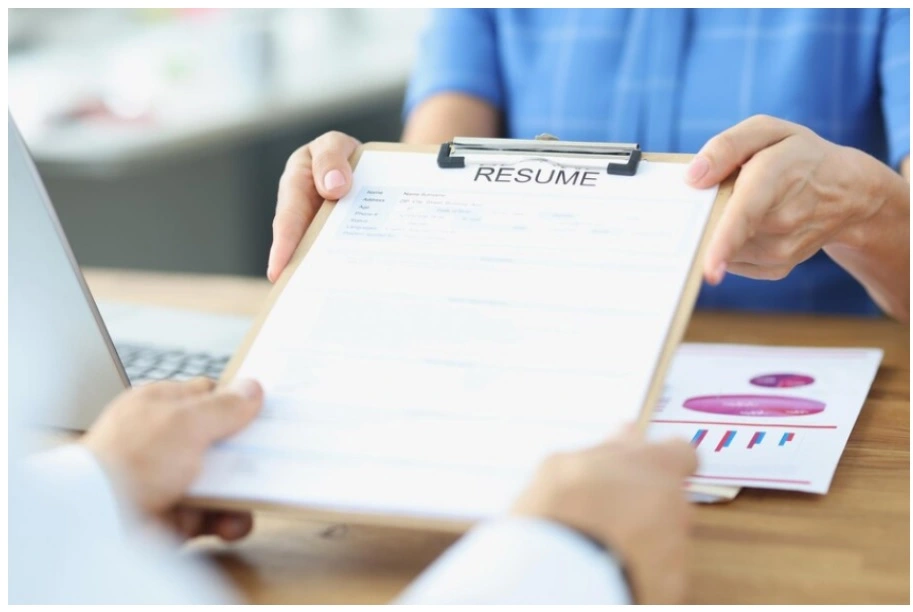 A resume is a one-page formal document designed to show a person's skills and career background. A perfectly formatted resume helps you to excel from the crowd. Job seekers use several resume formats, but the reverse chronological format is commonly used. Having a good resume in your hands before applying for a job is like having your weapons ready when going to war. 
If you're hunting for a job, it's crucial to know which resume format you should choose. This article will cover what is chronological and reverse chronological resume format, how it is different from traditional resume formats, and for which job this resume format can be a great choice. At MyResumeStar, you can find a lot of resume formats that help you understand which format you need for a job. 
Chronological or Reverse Chronological Resume and its Structure 
A chronological resume is the most important resume format that lists your work history, job accomplishments, and skills in reverse chronological order. The chronological resume format allows hiring managers to see your experience and career progression at a glance. It is ideal for job seekers because it can accommodate people with all experience levels. If you have gaps in your work history or frequently change jobs, you need to avoid chronological resume format. 
The chronological order reverse format follows a straightforward structure. It emphasizes putting your most recent experience at the top. It consists of the following sections;
Contact Information

Professional Title

Professional Summary

Work Experience 

Achievements 

Education Section 

Soft Skills

Optional Sections (Languages, Volunteer Work, Certificates, etc.)
Chronological Resume Format
The perfect resume formatting is very important as it can make or break the structure of the whole resume. You can use the following five steps when ordering your resume in a reverse-chronological format. 
Write your contact information at the top of the page in your resume header. In this section, you need to list your first name, last name, phone number, and some additional information. Some recruiters and hiring managers suggest adding your LinkedIn profile or link to your personal website in the contact section. 
You can also add a mailing address, but it is no longer compulsory because most recruiters prefer to contact you via email. 
A Strong Resume introduction 
Open your resume with a convincing resume summary. This section should be clear, catchy, and concise. The resume summary acts as a highlight reel and forces employers to read your resume. You need to use simple words and short sentences to highlight your relevant skills, goals, and accomplishments. Here you can convince the recruiters why you're a perfect match for this specific position.
The most fundamental part of a chronological resume is the work experience section. The hiring managers suggest writing your work experience in reverse chronological order. This format emphasizes listing your most recent work experience at the top of the section. 
List each relevant job in chronological order and under each job, put three to five bullet points explaining your responsibilities and accomplishments. Illustrating your accomplishments in bullet points help recruiters understand your abilities effectively.
The main purpose of the work experience section is to showcase your accomplishments and highlight how you can help companies achieve their future goals. You can check the chronological resume formats at MyResumeStar to know more about how to order your work experience in a chronological resume format. 
The educational section is the fundamental part of a chronological resume that you should never miss. This section should be simple and contain specific information such as studies at higher schools, colleges, or universities. You can also add the relevant certifications, institute's name, location, studied years, the subjects you studied, and the grades. 
The hiring managers say that most candidates are rejected just because they don't add the most relevant skills set in their resumes. It is compulsory in a chronological resume format to add the skills directly relevant to the job you want. If you're not sure what skills the hiring managers are looking for, you can look at the job description to understand what to include.
Chronological Resume Format Example :-
Jatin Rohilla
4900 Hopyard Road Suite 
100 Pleasanton CA 94588, 
United States
Summary
A Business Analyst with an extensive experience in needs identification and system design elements along with an ability to manage cross-functional teams. Outgoing, friendly and people oriented personality who can connect well with diverse groups and individuals. I am also very well organized and have good communication skills allowing me to efficiently support the higher management.
Work Experience 
2019-PRESENT
BUSINESS ANALYST, BOLD
Implemented new solutions and prioritised enhancements for existing applications based on business unit productivity and compliance needs
Responsible for data quality and transformation through filtering, grouping, aggregating, and statistical calculations
Assisted the project manager in developing both high-level and detailed application architecture to meet user requests and business needs
Researched and analyzed business processes and procedures , designing and implementing automated business solutions for insurance Industry clients
Developed process mapping for current and future business processes
Created project plans aligning with project management framework standards and procedures , identifying ongoing issues and gaps within project plans to eliminate implementation issues.
2018-2019
SEO MANAGER, BOLD 
Developed market-based business plans and sales strategies to ensure company sales goals and profitability are attained
Maintained personal performance metrics including contact databases, Activity reporting and sales forecasts
Created robust business development plans to engage markets and meet booking , sales, cash and profit objectives after identifying business unit operating plans
Responsible for new account acquisition, profitability targets, relationship management, cross-functional collaboration and promotional activations
Recognised as the face of the company with respect to contract negotiations, strategic business decisions and day-to-day decision making.
EDUCATION
MAY,2014
B.Tech, UCFS
Skills
Functional Vs. Chronological Resume
| | |
| --- | --- |
| Chronological Resume | Functional Resume |
|   |   |
| It captures the work experience under each job you have had | It lists the skills according to job functions or expertise |
| Compiles your all work experiences  from your most recent job to the oldest ones at the top of the resume | Groups your work experiences near the bottom of the resume |
| It emphasizes your past and recent experiences  | It tends to prioritize your future potential |
| Prioritize your work history more than your skills set | Focuses on your skill set rather than your work history |
Advantages of Chronological Resume Format
The chronological resume format is familiar to hiring managers and has several advantages over other resume formats.
The reverse chronological order is easy to scan.

This format delivers the perfect flow of a consistent work experience.

It gives a neat, organized, and concise look to your resume.

A universally accepted format in the job market creates a good impression on the applicants.
Frequently Asked Question 
Write about the difference between chronological and reverse chronological format. 
Answer: The reverse chronological resume format sorts out your data by the origin, and the date furthest from the current data is kept at the top of the list. While the chronological format, the information is sorted by its date. 
For which job chronological format is good. How to design a chronological resume format?
Answer: The chronological resume can accommodate people with all levels of experience, but it can be a great choice if you have got a long list of work experience or you're going to apply for a job that requires more relevant work experience.
The chronological resume uses a simple format that can be designed in Microsoft Word. 
A chronological/reverse chronological resume format is universally accepted that lists your recent work experience at the top of the document. If you're looking for the best chronological resume formats, MyResumeStar will provide you with the best possible options.