Want to build career as data analyst? Here is a comprehensive guide to create a professional resume that can help you get the dream job.
How To Write a Resume for Data Analyst - A Complete Guide
We are surrounded by data, but starved for insights.
Data Analyst is one of most sought job of 2023. Common responsibilities for Data Analysts include extracting data using special tools and software, responding to data-related queries, setting up processes to make data more efficient, analyzing and interpreting trends from data, and reporting trends to add business value.
When applying for a job, the resume is regarded as the most crucial component. The experience, talents, and personality attributes are summarized in a résumé. An excellent resume portrays the data analyst as a capable professional who knows target clients, analyzes large datasets, and can handle the pressures of working in a fast-paced setting. In most cases, a data analyst's resume should be formatted in reverse chronological order.
Data analyst job description: A job description primarily comprises a company's selection criteria and the characteristics that the organization seeks in possible candidates. Every organization publishes the job descriptions for the positions for which they are hiring. It describes in full the work responsibilities, skills, experience necessary, job schedule, and business incentives. It also includes the company's location as well as its mission and aims. The responsibilities of a data analyst in job details could include:
Experience with real data in any domain.

Innovative and robust analytical and algorithmic problem solvers.

Experience with statistical analysis tools (e.g. R, SAS).

Familiar with BI tools like Tableau.

Familiar with basic SQL queries.

Hands-on experience with advanced Excel and VBA.
The qualifications of a data analyst in job details could include:
BCA, MCA, Diploma in computer

Highly motivated with excellent verbal and written communication, presentation, facilitation, negotiation, and problem-solving skills

Self-starter with strong organizational and time management skills, self-directed
The job types can be: Full-time, Regular / Permanent, Internship
The schedule could be Day or Night shift, etc.
Structure of Resume for Data Analyst
Heading: The header of the resume should contain the applicant's personal information like name, job title, location, phone number, and professional email address. Make sure to format the resume template with nice fonts, a large margin, and enough white space before you start writing your resume for data analyst positions. E.g. 
John Doe
Data analyst in Atlanta, GA OR Data Analyst | Atlanta, GA
(123) 456-789 | johndoe@gmail.com
Data Analyst Resume Summary: It includes a compelling argument for why you should be hired. E.g. Data Analyst with proven skills in data mining, analysis, and reporting. Highly proficient in Excel, Access, and various analytics tools. Experienced in developing data-driven solutions to improve business operations and decision-making.
Data Analyst Resume Skills: It includes a carefully prepared collection of the most useful data analyst abilities. Give 5 or 6 keywords or pointers highlighting your duties and responsibilities in a way that's tailored to the job to which you're applying. Give 1 or 2 quantifiable skills to inform the hiring manager you are just as talented as your resume makes you appear. You can add the skills from the skill set given below:
Skill Set: 
Vendor Relations

System Design Elements

Data Mining

Database Design

Workflow Regulation

Functional Validation

Data Visualization

Project Costing
Experience: It includes specific bullet points of previous work responsibilities. Start each bullet point with resume action verbs to make every statement sound good. Use bullet points, keywords, and numbered successes to document your job history. Provide additional information about your schooling when you have less work experience. Relate your previous work experiences to the job you are going to apply for. For example, if you have worked as a data administrator you can relate your work experience of that job to your data analyst post application.
Education: It offers a short rundown of the schools you attended like Your University, College, or School, your Highest Degree of Education (Bachelor's, high school diploma, GED, etc.), your Date of Graduation, the Location of and the area of study.
Data Analyst Resume Keywords: It is important to add some data analyst keywords in your resume to save your application from the ATS software because most companies nowadays use application tracking software and resume parsing tools to save time on resume shortlisting. Also, do not forget to use the keywords from the job description of the company you are applying to because their ATS will be encoded according to their job description only.
Resume Templates Data Analyst: Resume templates are the first place to go for insightful guidance. Resume templates can be beneficial. If you're applying for the same job at multiple businesses, a template can save you time because you won't have to create an entirely new resume for each one. Sure, each company's demands will change slightly, but you can quickly modify resume parts to match the job description with the help of resume templates.
Our website MYRESUMESTAR also offers fantastic resume templates to assist you in obtaining your desired employment, along with fantastic interview, resume, or cover letter writing guidance. You can select the templates and designs of your choice on our site and create an amazing resume. Certain components of a resume are required by employers. If you skip any of them, you risk having yours thrown out. Templates from Myresumestar work great here because they are explicitly developed with your desired position and design in mind. They can remind you which areas you need to include so that you provide the recruiters with all of the information they require. Below are some examples of data analyst resumes.
Data Analyst Entry Level Resume:
If you have just completed your college degree or Masters, and are seeking a job in data analytics field This resume format is for you. For a newly graduated, the biggest problem is to impress the recruiter. Freshers have no experience with projects and thus have less to show in their resume. You can include the projects that you worked on during your Graduation in your experience section. And should have thorough knowledge about your work. 
Data Analyst Entry Level Resume Template Example
Get started with these free Data Analyst resume templates
Data Analyst Intern Level Resume:
Normally if you are working in a field for 3-5 years, you will be considered a mid level. At this level you are expected to have knowledge and experience with many projects that you can reflect on your resume. Include all the software you have worked on.
Data Analyst Intern Level Resume Template Example
Get started with these free Data Analyst resume templates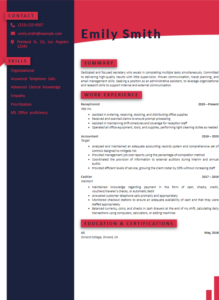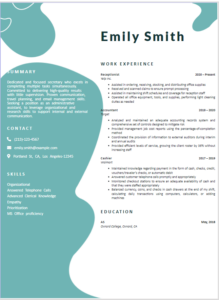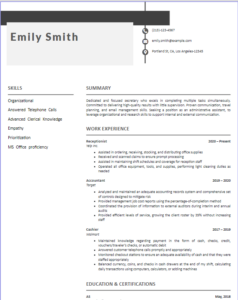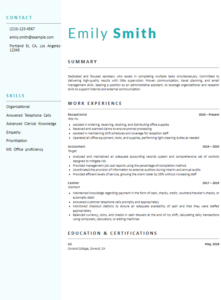 Senior Data Analyst Resume:
A senior Data Analyst is usually considered as a Manager. Showcasing your expertise in your resume shows your versatility and expertise.

Data Analyst Senior Level Resume Template Example
Get started with these free Data Analyst resume templates