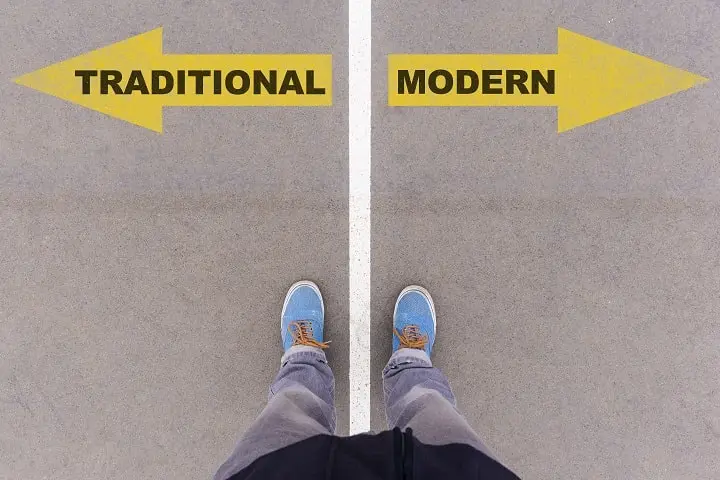 Do you want to know the basic difference between modern vs traditional resume? 
Are you confused about which type of resume one should use?
Then you are at the right place.
This 4 min read will clear all your doubts. 
Let's dive in.
A good resume is the most important element if you are sending job applications. It has to be better than perfect for the position you are seeking, because an unprofessional resume can decrease your chances of being hired. There are a lot of resume Formats like Traditional resume format, creative resume format, non tradition resume or a modern resume format. Is your resume modern vs traditional? This article will clear all your doubts. The focus of this article will be on Modern and Traditional resume format.
Traditional Resume Vs Modern Resume
While there are many other sorts of resumes, traditional resume format is the most popular. It's normally a two-page document that includes a summary of your professional experience, skills, accomplishments, and educational background. Recruiters can easily read and skim this type of business document because it has a straightforward structure with no dazzling graphical components or colors. It solely contains text that promotes your accomplishments. A traditional resume will pass any Applicant Tracking System (ATS) scanning procedure due to its simplicity.
For most of the traditional roles (listed in the next paragraph)  you should go for a traditional resume as usually they go through ATS then recruiter and then hiring manager. But if your resume is directly going to hiring manager (you are applying in-person or through a referral ) then you can go for modern resumes as your resumes will have more personality to it.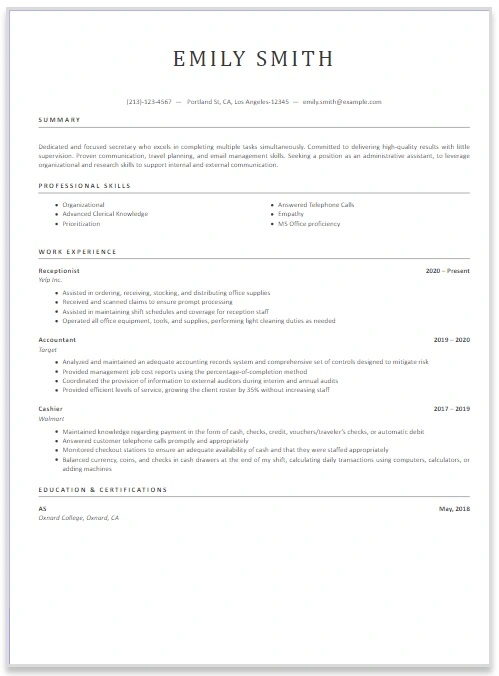 When to use a traditional resume?
Jobseekers searching for positions in conservative workplaces, such as law companies, Attorney, Judge or other business industries, such as banking or the non-profit industry, prefer these resume layouts. Also those who are applying for federal jobs or US government jobs  prefer these type of Resumes.
What makes a traditional resume :
The layout and the structure of a traditional resume is simple and it follows a strict format. A header, title, and contact information are usually included in this resume template. Your professional summary is followed by your professional job history, and the paper concludes with your educational information and relevant skill sets.
Traditional resume is monochromatic, with only black and grey as accent colours.
The Resume font to be used in this Format is Times New Roman.
Education and experience are listed in reverse chronological order, with dates and locations specified.
Most companies like the classic resume format since it clearly informs them of your job-related talents and abilities.
It can be scanned by applicant tracking systems (ATS), resulting in a perfect pass rate.
Read more about traditional resume format here….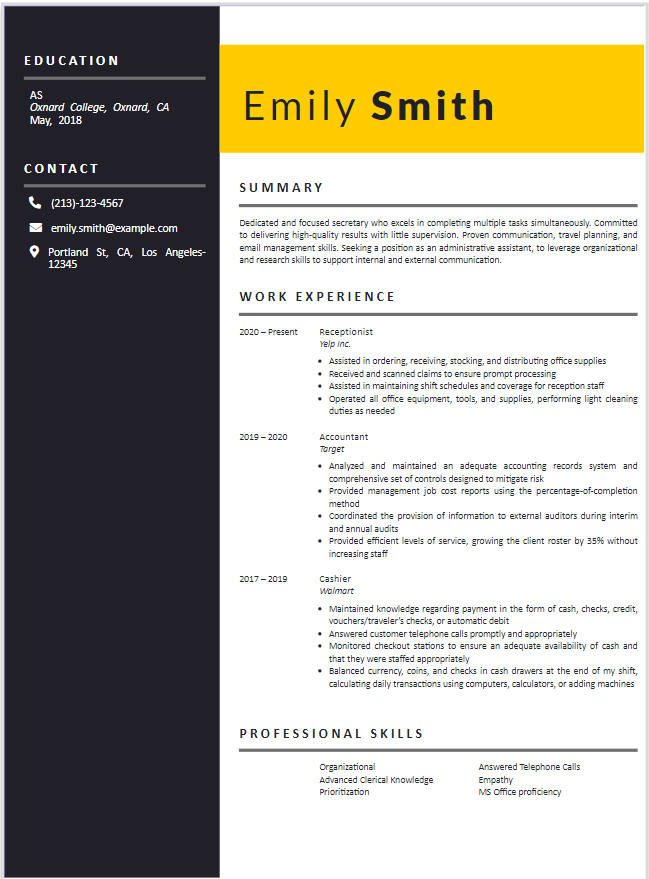 It is one of the greatest resume formats for job seekers searching for a modern twist on traditional CV templates. It has received great praise from professionals in a variety of fields, including sales, healthcare, and education.
A modern resume conveys boldness of your personality and your willingness to accept changes. It's a good format if you are applying for creative jobs such as designer, sales, content writer, UX-UI, marketer etc. Also, due to it's color combination and spacing, it's a good format if you have less content to put on your resume e.g. a student who is just entering a work-force and don't have much information to put on your resume. 
I personally like modern resumes because it gives me good insight about the job seeker's personality but you should use it based on where you are applying for. If you are applying for a very traditional job and in a company which has very traditional and conservative environment then I would probably go for a traditional resume and you know why.. 
What makes a modern resume:
Use of vibrant colours throughout the resume, including at the top.

Use of eye-catching fonts to draw attention to important detail.

Strong emphasis on name, job title and section headings.

Room for a photo or logo.

Introduction of Bars and Graphs
When to choose a modern resume:
You're applying to a forward thinking and youthful company.

You'd like to work in a field such as technology or for a start-up.

If you want your application to stand out with a striking layout.
A modern resume format allows you to align your personal style with the company's and promote yourself as new and unique.

A modern resume might also help you stand out in a crowded field of applicants.
💡Tip :- Modern vs Traditional – The Purpose of a resume is to grab the attention of potential employer. It more over depends on choice of employer which kind of resume he/she will like. Also having a particular type of resume can not substitute the fact that Your resume profile must be oriented to the job you are applying and you possess relevant skills and qualification.