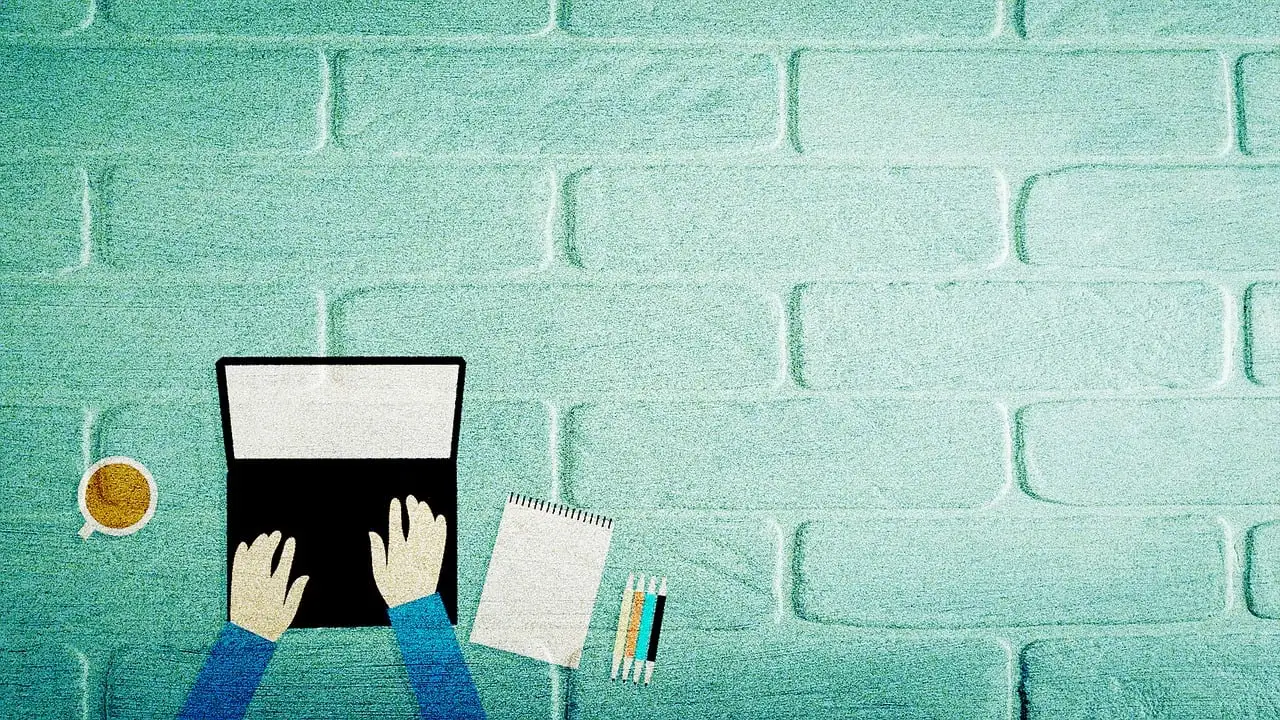 Visually attractive graphics and videos are produced by animators for use in branding and instructional materials. Though they occasionally employ hand-drawn methods based on their tastes or preferred styles, these experts frequently use digital tools like design and editing software. A profession as an animator could be gratifying for someone who is creative. By producing eye-catching designs and videos for clients, this position gives you the freedom to use your imagination every day. Prior to applying for a position as an animator, you must produce a highly impressive CV that will grab the attention of hiring managers and help you land the job you've always desired. The chronological or reverse chronological resume format is the better option when deciding between the functional (also known as skills-based) and combination resume types for an animator. It is the most popular among recruiters worldwide and, by emphasizing your most recent employment first, efficiently highlights your successes and talents. Use the following tips to create an animator resume that highlights your accomplishments and gets you the position you want:  
Header
The applicant's personal information, such as name, job title, location, phone number, professional LinkedIn URL, and professional email address, should be included in this area of any resume. For instance, if you're looking for a unique way to express yourself, try any of the following,
John Doe 
Animator in San Fracisco, GA 
(123) 456-789 | jo****e@gmail.com 
John Doe
Animator | CA
+12 345 9846 | CA | 94016
jo****e@gmail.com  
Linkedin.com/us/johndoe 
Summary for Animator Resume:
 The first ticket to get the job is your animator resume Objective or Summary; it sets the tone for the rest of the day. This profile will comprise a two-sentence summary of the animator's resume that highlights the applicant's best traits and achievements. Make a strong beginning statement on your resume. Begin by emphasizing positive character attributes in your animating goal. 
Now let's discuss the difference between a resume objective and a resume summary with suitable examples.
The animator's resume objective shows your talents and explains why you're a good fit for the job. This type of opening statement is best for individuals with little or no work experience, whereas an animator summary for a resume is a concise description of your relevant professional expertise and accomplishments. It mentions any past work experience you've had.
You can give a brief overview of your education and academic accomplishments (in this case, your GPA) in your resume objective along with mentioning the employer by name and explaining how they can assist and what they can provide. 
Example of a resume objective: Student pursuing a BA in graphic design at UCLA with a lot of passion and attention to detail (GPA 3.8.) Conflict resolution and communication skills have been honed. I'm excited to join CCS Inc. to use my interpersonal talents and provide excellent animations to create client loyalty. Previous three-month internship in an animating job with a software firm.
 Read More :- Types of resume formats
Example of a resume summary: Animation professional with more than 12 years of experience creating animations and graphic designs. Excited to join EXCOM in order to create meaningful stories and provide the best possible service. Looking to leverage my skills in 3D modeling and VFX at EXCOM.


Work Experience
Animator 
X corp| San Francisco| CA 
September 2017–Present 
Created 3D models, rigged characters, and animated scenes for a television series.

Created 2D animated sequences for a feature film that grossed over $30 million at the box office.

Developed a series of 3D animated sequences for a feature film.

Developed a series of 2D animated shorts for a web series.
Key achievements: 
Three times received the Animator of the Month Award. 

Collaborated with a team of 10+ animators to create 3D graphics for a video game.

Developed 300+  storyboards and animatics for a television commercial.
Education:
It provides a brief overview of the educational institutions you attended, including your university, college, or school, your highest level of education (Bachelor's, high school diploma, GED, etc.), your graduation date, the school's location, and the subject you studied. For illustration, 
USCL  
GED 
July 2016 – Jan 2020
Skills:
You can provide a succinct rundown of your animator expertise in this section. For example, 
Adobe Illustrator 

2D animation

3D animation

Canva 

Design Review 

Graphics Testing 

Visuals Conceptualization 

Graphics Development 

Motion Graphics 

InDesign 

Adobe Suite 

Photoshop 

Autodesk Sketchbook 

Animation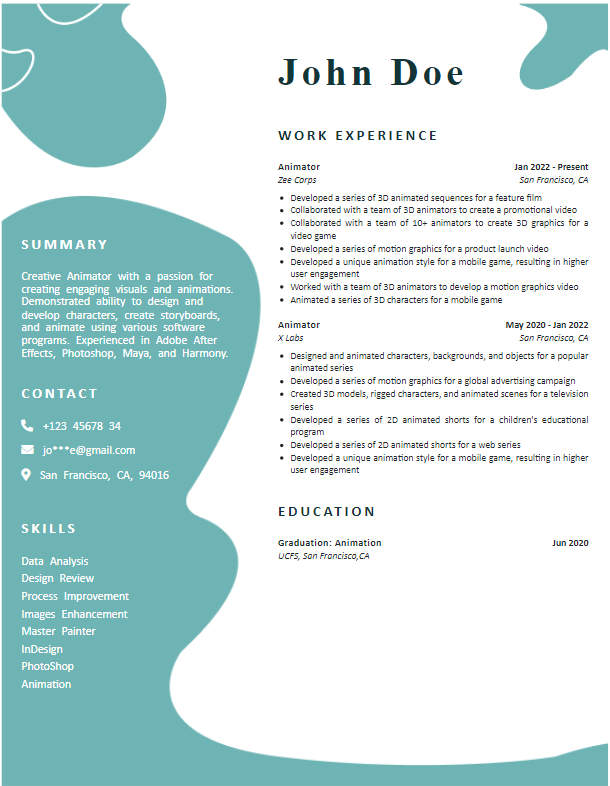 Additional Tips:
Make sure your resume is optimized for search engines by including the right keywords, and to select the right keywords, carefully read the job description for an animator. List your skills in a basic manner. Pick the talents that best fit the job requirements given in the employment ad and include them in the section of your resume that lists your animator capabilities. If your resume doesn't already list five to ten skills that are related to your job, then add a few from your general list of skills. Highlight both hard and soft skills in your animator resume. Your job descriptions should mention the most important talents. Be a team player by example rather than just by saying you are one. As a result, these were some pointers on how to write a resume for an animator. Click here to learn more about resumes or resume templates.